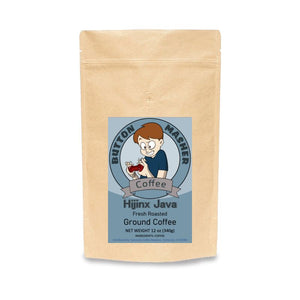 Button Masher Coffee
Sale price Price $17.00 Regular price $20.00
We all know that person who can't remember the combos so they mash all the buttons.  Precise movement and working the controls isn't working? Ares just too strong?  Just start Button Mashing! Contrary to many beliefs, Button Mashing is an art form and it requires way more thumb strength than you would expect. That's why you need Button Masher coffee with your gaming; cause' when the coffee is just right, your controls should feel tight.
Lucky for you our Button Masher Coffee is completely organic. A Medium Dark Roast, from the Kintamani Region of Bali. A swig of this delicious mind-opener will bring an explosion of Dark Chocolate, Molasses and Brown Sugar flavors in your mouth. So, if you ever start losing your mind during your battles. Try Button Masher Coffee, you might lose your battles but you won't lose your mind.
Mash all the buttons with this brew!
Just the right amount of caffeine and flavors