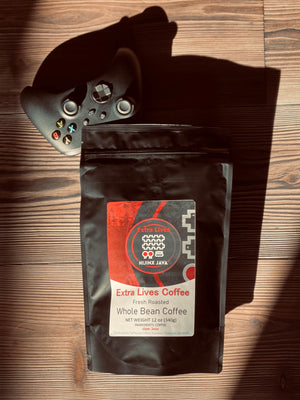 Extra Lives Coffee - Whole Bean - 12 oz
Sale price Price $17.00 Regular price $20.00
When you can't beat the red falcon, try a cheat code and a little cup-o-joe.  The cheat code will give you extra lives, and the joe will give you the energy to keep going to save the world.  This single origin whole bean coffee is roasted to order.  Take your coffee seriously, not your game. 
These Costa Rica Energy beans have a light roast, the leaves notes of sweet apple, raisin and honey.  The beans are eco-pulped and and dried in the sun before finding their way to our roasting facilities to bring out the flavors. 
Whole Bean Coffee
12oz
Light Roast
Single Origin; Costa Rica
So damn good
This coffee, my god, I can't say enough good things about it. Quite possibly some of the best coffee I've ever had in my life
Better than a cheat code
Fun packaging and great light roast. Look forward to trying the others.